ompl::multilevel::FindSectionSideStep Class Reference
#include <ompl/multilevel/datastructures/pathrestriction/FindSectionSideStep.h>
Inheritance diagram for ompl::multilevel::FindSectionSideStep: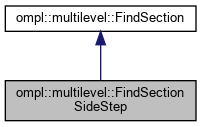 [legend]
Detailed Description
Short description

FindSectionSideStep tries to solve the find section problem by going along an L1 interpolation towards the goal while no collision occurs. Once a collision occurs, we sample randomly on the current fiber and make side steps towards feasible samples. We then recursively continue from those samples.
External documentation

Andreas Orthey and Sohaib Akbar and Marc Toussaint, Multilevel Motion Planning: A Fiber Bundle Formulation, in arXiv:2007.09435 [cs.RO], 2020, [PDF]
Definition at line 132 of file FindSectionSideStep.h.
---
The documentation for this class was generated from the following files: